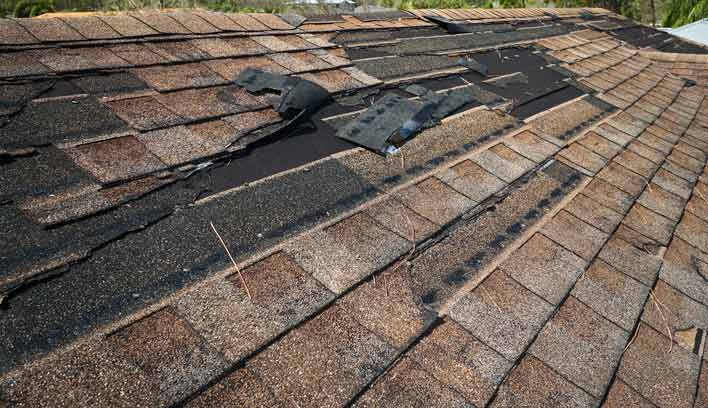 Anyone who lives in Texas knows that we get some whopper storms passing through that can cause significant roof damage requiring storm damage restoration.
How can you tell if yours needs storm damage repair services?
This checklist can help you do a basic homeowner inspection to help decide how pressing calling for help really is.
A roof exhibiting any of these symptoms should be examined by a professional storm damage inspection service that can diagnose problems and make a plan on how they should be corrected.
Know What Storm Damage Looks Like
Before you can say that you don't see damage that requires storm damage restoration, check off this list of what storm damage actually looks like:
Obvious Storm Damage – Branches or debris laying on or passing through the roof, missing or broken shingles, missing flashing, gutter damage, and other more obvious problems are the easiest to see and a first indicator that calling a storm damage repair service is necessary.
Water Damage – Wetness and water stains under the roofing, in the attic, and elsewhere in the house.
Hail Damage – Dings, dimples, and cracks on the shingles or panels caused by hailstones.
Less Obvious Storm Damage – Shingle grit in the gutters, peeling roof sealant around protrusions, and light seen through the roof from the attic are all harder-to-spot signs that attention is needed.
Do A Visual Exterior Inspection
Now that you have an idea of what to look for, do a thorough visual storm damage inspection of the exterior of the house once the storm passes.
Using a set of binoculars to help you get a closer look, view all the slopes, valleys, and protrusions on the roof paying attention to the condition of the roofing materials and the flashing.
This can even be done with a drone if you have one, the same as many storm damage repair services use, to get a better view of what the top of the roof looks like.
Don't forget to also inspect the gutters, fascia, and soffit as all of these parts make up a total roof system and can become damaged when big storms with strong winds and rains pass through.
Inspect Inside The Attic
Next, take your storm damage inspection inside and into the attic space.
The attic is where many signs of damage that you cannot see from the outside become more obvious.
Look for moisture, light peeking through corners, signs of mold, wood rot on the rafters, bits of leaves and other debris inside, and anything else that suggests that rain and wind are somehow getting in.
Call a storm damage restoration service upon seeing any of this so they can determine the cause and make the appropriate repair.
Schedule A Storm Damage Inspection Service To Make Sure
Sometimes, it is easy to see that a call to a storm damage repair service is necessary because of obvious damage that happened during a storm.
Other times, finding the damage involves a more detailed storm damage inspection, so start out by taking a look yourself.
If any of the above problems are noticed, call a storm damage restoration contractor who can help.
A more thorough inspection by a trained eye is recommended if anything seems even slightly amiss.
It is better to make repairs sooner rather than later to prevent the slow, ongoing deterioration of your roof due to minor storm damage that does not get noticed right away.
Need Commercial Roof Damage Repair Services
GMA Restoration Can Fix Commercial Roof Damage Repair
Call 979-356-2392