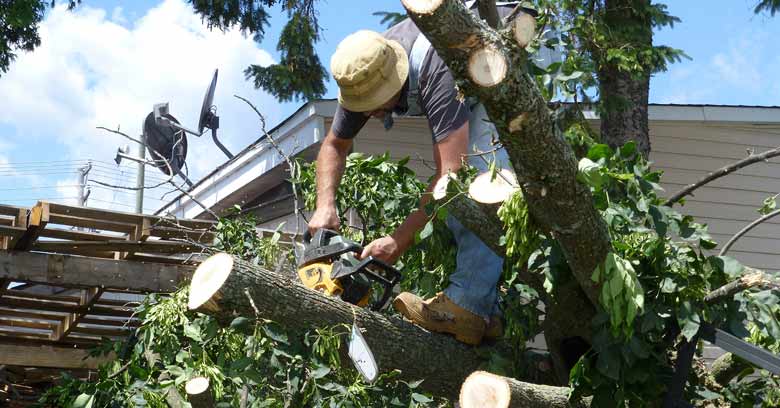 When a major storm has blown through and your home has suffered damage, the first instinct might be to start on home storm damage clean up.
Before jumping right in to do that, it is a good idea to discuss the problem with a storm clean up company and develop a clean up plan.
As much as you surely want to get clean up and repair of the damaged home underway, these tips from professional storm damage services will guide you in the right direction.
1. Notify Insurance Companies First
Before touching anything, home storm damage clean up< must always begin with a call to your insurance company.
Notify them of what happened and the estimated extent of the damage from what you can tell, then wait for their instructions.
Homeowners who start the clean up and repair process without a storm damage company and before getting instructions from their insurance companies could unintentionally affect their claims due to not following proper claims procedures.
2. Make A Detailed Inventory of the Damage
For insurance and other purposes, homeowners should make a detailed inventory list of all damage, including damage to the physical structure and personal property.
This is something that a storm damage clean up service can assist with.
Most likely, you will need a damage assessment and repair estimate from a storm clean up company to present to the insurance company, so this is something that can be done in part with their help.
3. Avoid Throwing Things Out Too Soon
From destroyed personal property to emergency repair estimates and receipts, do not throw away anything after the storm until the insurance company gives the go-ahead.
Once insurance companies are notified, they will instruct on what parts of storm damage clean up can begin while waiting for an adjuster; however, don't throw anything out until the representative has seen it all first.
It is written in most homeowner's policies that before a homeowner or any hired storm damage clean up service disposes of damaged items or makes repairs, it must all be available for inspection by the adjuster.
4. Secure The Property
Securing a damaged property means more than just preventing theft.
In cases where storm damage has been sustained and before a storm damage clean up crew can start working, it also means covering up existing damage to prevent additional damage.
Roof damage, broken windows and doors, and other physical damage to the home should be secured, as well as any dumpsters and waste piles that might be needed for insurance purposes while clean up and repairs are ongoing.
5. Hire A Professional Storm Damage Clean Up Service
Once the insurance company has given their okay to do so, call a professional storm damage clean up service and arrange for their help.
Cleaning up home damage after a storm is not only exhausting work; it can be very dangerous and if not done the right way, more damage can result.
Get Professional Help to Clean Up Storm Damage
In the unfortunate event that your home has been substantially damaged during a storm, it is always best to work with a professional service that specializes in home storm damage clean up and restoration.
An experienced company will do things right once the insurance company has been notified and work within the requirements of the policy for doing clean up and damage repairs.
Hopefully, few homeowners will need these services; however, for those that do, a qualified storm damage clean up and restoration crew is the contractor to call!
Need Commercial Roof Damage Repair Services
GMA Restoration Can Fix Commercial Roof Damage Repair
Call 979-356-2392