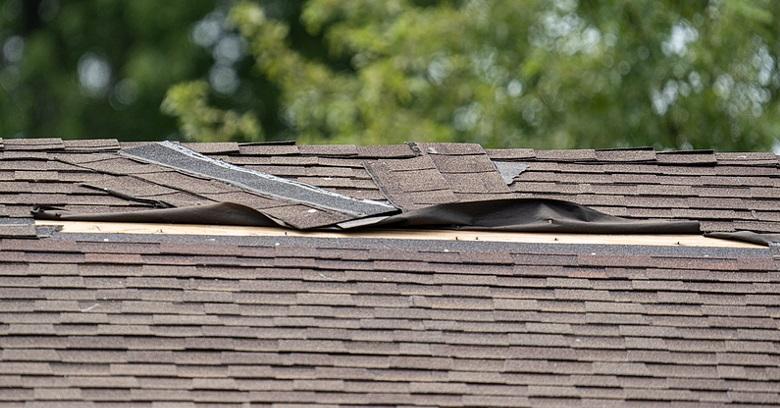 When a major storm passes and there is a possibility that your home has sustained roof damage, it is important to act fast.
Prompt attention to detect damage and do necessary roof damage restoration will prevent extra damage from happening.
While you should always call a professional for the final decision, here are some tips on identifying roof damage after a big storm to inform the contractor of the basics as they schedule your roof into their schedule for a storm damage inspection.
1. Do A Ground Visual Assessment First
Start your home inspection for roof damage with a visual assessment done from the ground.
Walk around the house and view the roof from all sides looking for obvious problems.
Look for things like debris on the roof, missing or broken shingles or panels, tree limbs on or through the roof, and other obvious problems.
Though a need for roof damage restoration is not always obvious, this is a starting point for doing a personal damage check in order to relay the findings to a roofing contractor who is likely handling a lot of damage calls and prioritizing them based on the degree of damage being reported.
If any of your home's architecture includes a flat roof, look for evidence of pooling water, too.
2. Assess Roofing Accessory Components
Next focus on the accessory components that every roof has.
Look for roof damage in easily-affected areas like the gutters around the whole house, flashing around protrusions and within valleys, and other installation components.
Gable, soffit, and other vents should be individually located and viewed, as well as skylights, exhaust pipes, and any other elements on or through the roof, to assess their condition.
Missing, loose, or otherwise damaged flashing should be noted, as these are elements most likely to need some kind of roof damage restoration and also most likely to be overlooked.
If you have them, a pair of binoculars can help get a closer look from the ground.
3. Inspect Under The Roof From the Inside
Finally, head inside to take a look where some of the hidden roof damage might show up.
Start by checking the ceilings and walls on the uppermost floor of the home to look for evidence of water leaking in, then go into the attic and take a careful look around.
Just because the outside looks good does not mean your roof is not in need of damage restoration due to problems caused by high winds and torrential rains.
From the underside of the roof, look for things like damp beams and insulation, light showing through the decking, and other signs that something is not right.
Identify Roof Damage After Major Storms With This Roof Check
While a preliminary personal check is not the end-all inspection to reveal roof damage after a major storm, it is a good place to start once the weather passes.
Taking a thorough look at your home and locating any easily-observed damage is very helpful to contractors when calling to request a professional inspection.
Quickly identifying significant problems that require immediate roof damage restoration will ensure your home gets the attention it needs as quickly as possible to reduce any additional damage that could happen.
The sooner a roofing contractor gets out to do a professional inspection, the sooner any necessary repairs can be made!
Need Commercial Roof Damage Repair Services
GMA Restoration Can Fix Commercial Roof Damage Repair
Call 979-356-2392